If there are 9 babies in the nursery, how many adults are required to staff the nursery per MGBC policies?
A Youth Helper is allowed to
It is acceptable for an adult leader to be alone with a child
The use of name tags for those working with preschoolers, children, and youth is
If 8 male and 4 female 14 year old students are going on an overnight camping trip, the following adult leadership is required
A staff member or volunteer can transport a minor of the opposite sex alone in a vehicle
Which of the following that pertain to relationships between adults and youth/students is consistent with MGBC policies?
When an adult leader goes on a youth retreat where the overnight accommodations are hotel rooms,
Which of the following behaviors is consistent with MGBC policies?
If a church function or activity offering child care is not conducted on church property
A parent may drop off a 5-year old child into a classroom only if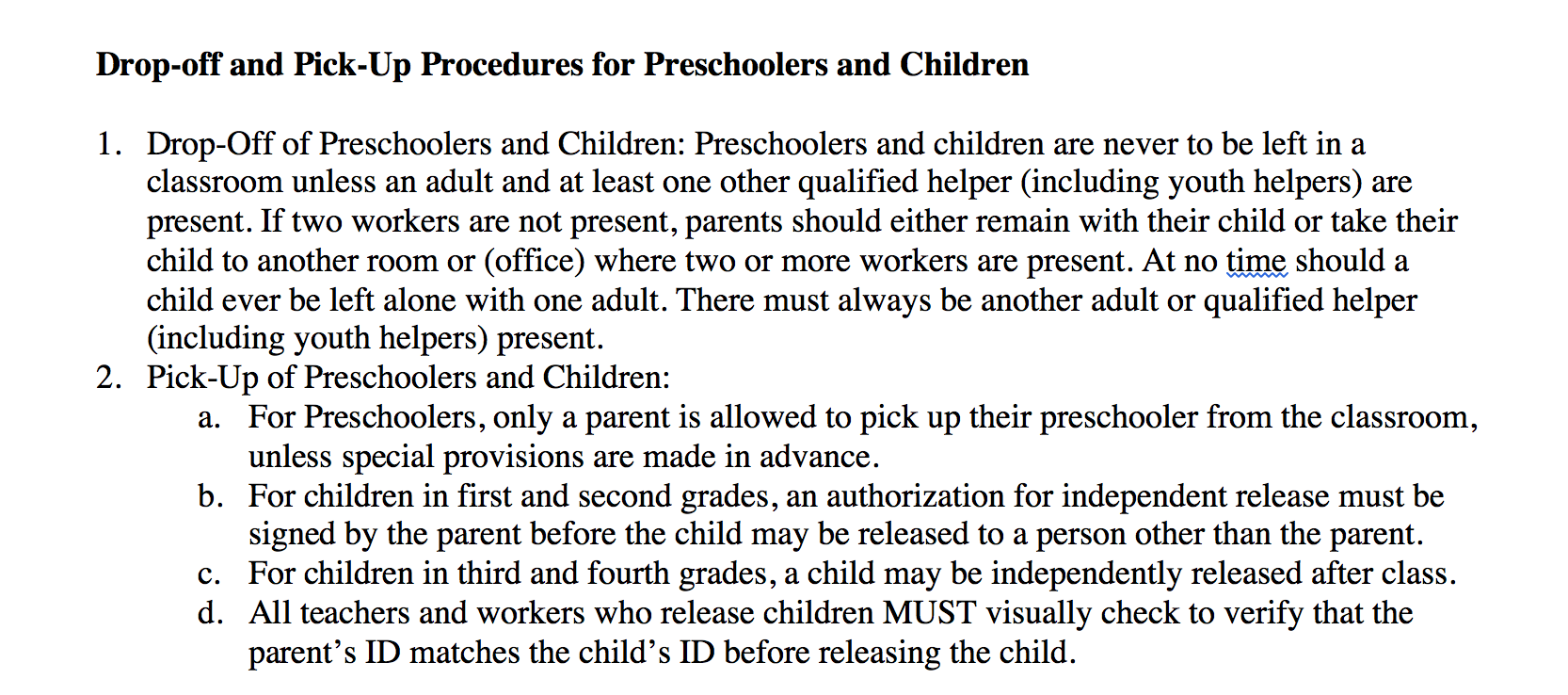 A child should not be allowed to participate in a class or activity if
The first thing to do in case of an emergency involving broken bones, convulsions, loss of consciousness, or other serious injury
In the event of a tornado warning
In the event of a lockdown, colored laminated paper is placed in the door windows to signal that either everything is okay or that there is distress in the room. One side is colored ____ to signal that everything is okay and the other side is colored ____ to signal distress
The Child Abuse Response Team or other church group investigating allegations of misconduct or abuse shall assure
The church requires that members, staff, and volunteers report any inappropriate conduct.
What is the primary goal of the Risk Management Committee?
A new member becomes eligible to work with the preschoolers, children, and youth...
Training for all volunteers who work with preschoolers, children and youth to educate them on the policies and procedures for insuring safety and reducing the risk of abuse...
If a volunteer has engaged in any serious misconduct or abuse...
An appropriate form of child discipline is
Parents of preschoolers, children, and youth participating in the ministries of the church are required to
preschoolers/children/youth that may utilize equipment or facilities as well as any age restrictions for such equipment or facilities shall be addressed. At what age are children allowed to leave a classroom or activity unsupervised?
What activities would NOT be allowed on church grounds or church functions?
If youth are being taken to an amusement park, submission of travel plans, supervision, travel arrangements, and parental approval process
An incident report should be filled out each time an accident or health issue occurs, except
Adults, both paid and volunteer, are required to report incidents of suspected misconduct or abuse